Marketing Your Event, Program or Service
We can help you develop marketing strategies for your upcoming project. If you are unsure of some of the details surrounding your project, we will meet with you to help determine the best communications strategy.
Prior to contacting us about your project, please consider the following information, which will help us determine how we can best support your communication needs:
Project timeline/due date
Intended audience
Project goals and objectives
Types of communications needed; number of printed pieces needed
Need for online communications: Web, email or other
Details of your project: when, where, what, why and how
With this information, we can then develop a marketing strategy that will include:
The types of communications that would work best for the intended audience
How to best market your event, program or service to the target market
Other services around the College that may help promote your project
For more information, please complete the Strategic Communications project request form.
A variety of communication and marketing strategies may be used to successfully promote your event, program or activity. The details, audience and goals for your event will help us determine what methods will achieve the best results. We create plans and strategies using several communication mediums, including but not limited to:
One-pagers
Brochures (with or without mailing panel)
Fliers
Invitations
Programs
Posters
Online marketing — email blasts, social media (Facebook, Instagram, Twitter)
Website or page
Targeted direct mail
Press releases and media relations
Advertising
Different Items, Different Writing Styles
Please keep in mind that writing copy for various options, such as a web page, brochure or email is different. We will help you prepare the appropriate amount and style of content.
Project Design
Before assigning your project, we will meet with you to discuss what types of images, such as photos or graphics, you would like to use in your publication. If we do not have photos in our photo library suitable for your project, we will schedule a photo shoot. Scheduling a photo shoot may add extra time to the publication schedule. The graphic designer assigned to your project will provide design options for your review. The designs will be consistent with the College's overall brand, which includes standard colors, fonts and logos. Creating a consistent look across printed pieces and other communications helps to reinforce the College's brand.
Project Process, Timeline and Approval
Copy Preparation
Producing print and electronic publications or website content involves many steps, so you will need to plan ahead. You are required to write the initial copy for the project, which must then be approved by your dean or supervisor. If you need assistance writing copy, please contact our office.
To keep your project on schedule, please prepare your copy in accordance to the guidelines below. Formatting the text (adding tables, graphics, images, etc.) makes editing and designing the project more difficult and time consuming, and this may add to the time needed to complete your project.
Ask yourself these questions when working on your copy:
Who is your audience and what are their needs?
What is the best way to communicate with your audience?
What kind of images will help convey your message to your audience?
When do you need the information to reach your audience?
How many copies of the publication will you need?
Will you be mailing the publication in bulk?
Once you have submitted copy for your project, we will edit the document in accordance with the College's editorial and punctuation style guide. Sometimes it is necessary for the staff to rewrite the copy. In such cases, the copy will be sent back to you for final approval.
When preparing copy for print publications or the website, please:
Use one 12-point font
Use single-spaced text
Use black font color only
Use single spaces when starting sentences
When preparing copy for print publications or the website, please DO NOT:
Put text in a brochure format
Put text in tables
Put text in columns or text boxes
Put text in all capital letters
Add photos or clip art
Box or frame text
Add lines, use shadowing or borders
Create margins
Copy should be prepared as a Word document.
New Websites or Additions/Edits
Before creating copy for a new website or website page, please contact us to arrange a meeting to discuss the project. We can also provide tips to help make the site or page most effective.
In order to submit changes to the College's existing web pages, please write out your changes and email them to web_request@ccp.edu, following the print copy guidelines above.
Project Timeline
Copy for websites, brochures and larger publications should be submitted six to eight weeks prior to the date that you need the printed publication/live website.
Copy for emails, fliers, invitations and other smaller publications should be submitted three to four weeks prior to the publication date.
Requested publications will be inserted into our schedule of annual publications, most of which are enrollment-driven.
Sample Timeline for a Brochure
| Time | Days | Action Items |
| --- | --- | --- |
| Monday, Week 1 |   | Offices of Marketing and Creative Services receive copy |
| Friday, Week 1 | Day 4 | Copy is edited (if extensive changes, copy is sent back to client for final approval) |
| Monday, Week 2 | Day 5 | Brochure assigned to a graphic designer |
| Monday, Week 4 | Day 15 | First proof of brochure sent to client for review |
| Thursday, Week 4 | Day 18 | Office of Creative Services receives proof back with changes marked |
| Tuesday, Week 5 | Day 21 | Second proof of brochure sent to client for review |
| Friday, Week 5 | Day 24 | Office of Creative Services receives proof back with signed proof sheet |
| Tuesday, Week 6 | Day 26 | Paper and ink ordered; file sent to Duplicating for printing and folding |
| Thursday, Week 7 | Day 33 | Brochure complete and delivered to client |
Review and Approval of Your Print Project
Once the initial design has been finalized, you will receive the first of two proofs. You must sign and return the proof sheet with the proof.
Please check the proof very carefully. This is your chance to not only review the design, but also to check for any factual inaccuracies and typos. Please check for correct dates, correct spelling of names and places, and correct titles. Mark all changes directly on the proof in red ink. Return the proof with the signed proof sheet to the director of Creative Services. You will then receive a second proof with a proof sheet attached. Review this proof for final approval. Again, this proof sheet must be signed. Publications will not be printed without a signed proof sheet.
Your timely response in approving each stage of the process will ensure that the project is completed on time.
Artwork for Promotional Items
The Office of Creative Services can provide you with our logo for promotional items, such as pens and T-shirts. We can also create a design for T-shirts and other items. Please call ext. 8043 for more information.
Duplicating can print one- and two-color publications, as well as full-color publications, up to an 11" x 17" size. They can print on smooth, textured and glossy paper. They can also do various types of folding and saddle stitch booklets. The Division of Enrollment Management and Strategic Communications will pay for the necessary paper and ink for in-house printing. For consistency on publications, all paper and ink choices will be made by the director of Creative Services. If you would like a specialized item or a quantity that cannot be printed in-house, your department will have to pay for outside printing. The director of Creative Services will request price quotes from the printer for you and will manage the process. Please call ext. 8043 for more information.
We regularly distribute information to the College community via different communications:
Community Starts Here —This online newsletter features upcoming events and activities, College happenings, recent news, and other timely content. The entire College community receives this email weekly on Mondays. Email  '; // -->  to submit entries or ask questions.
Cnews — Faculty and staff share information to specific groups of employees or all employees through emailed announcements. Information in the Cnews must directly impact numerous faculty and staff. Individual achievements, promotion or activities are to be included in Cnews.
To submit a Cnews item, fill in the CNEWS Form which is always accessible from the Employee Resources / Administrative Forms Quick Link Menu item.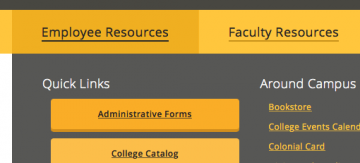 Our division staffs a dedicated photographer to take pictures for publications, the College's website, instructional use, event coverage and other College needs.
Photography Scheduling
Under normal circumstances, scheduling photography two weeks prior to the event is recommended. In order to schedule the photographer, please fully complete a Photography Request form. If you have questions regarding the form, please contact the photographer at ext. 8822. Please note that not every event is an appropriate use of the College's photographer. If you are unsure, discuss the event with the director of Creative Services.
We will try to accommodate "rush" requests for photography. Normally, the first request for photography for any given date and time will be honored. However, on occasion, if a more pressing assignment is requested, we will call the first requestor and ask to reschedule. The office may be able to accommodate the original requestor by having one of the office's designers shoot digital photographs.
If your event is in the evening or on a weekend, coverage is at the discretion of the photographer and pending budget, as it is an overtime request. Give the photographer as much notice as possible since prior plans may prohibit working on the assignment. If the event is scheduled, your department will be responsible for paying the overtime costs.
Before requesting new photographs for a publication or website page, call the College photographer. She has an extensive archive of images that may fit your purpose.
Photography requests must be submitted as least 2 days prior to the event by filling out the Photography Request form. For more information, call ext. 8040.
Authorization Policy
Everyone who is photographed for print or online publication purposes must sign a Photo Release Form. The required release form gives the College full permission to use their photo. Photos without signed release forms will not be used. News event photographs being used for press releases or Transcripts do not require a release form. An authorization form is also required for photographing and videotaping for both internal and external (media coverage) use.
As per the photo/video release agreement in the College Catalog, Community College of Philadelphia uses photographic, video and/or digital images taken of students on College property and at College events, as well as quotes provided by students, in publications, advertisements, promotional materials and audiovisual productions associated with marketing and/or student recruiting.
Questions Regarding Photography
If you have any questions regarding photography, call the College's photographer at ext. 8822.
Communications (Media and Public Relations)
The College's director of Communications is responsible for external and internal communications regarding newsworthy events, happenings and stories. Public relations involves the process of promoting an organization's programs and services, educating the public-at-large and communicating relevant information to a wide variety of audiences. The College's audiences include potential and current students, faculty, staff, trustees, legislators, business and industry, broadcast and print media, and the general public. The primary role of public relations is to enhance an organization's image and to increase the public's understanding of our overall mission.
Public Relations for Your Project 
If you have an event or item that you think requires internal and or external publicity, it is important to share story-related information, background materials and planning schedules with the director of Communications well in advance. This allows adequate time for the publicity materials to be developed, reviewed, approved and disseminated. Advance planning also enables us to think creatively and identify potential "hooks" and "angles" that can be used as part of a specific public relations strategy.
News coverage, a press release and an op-ed are a few of the tools that can help inform people about an event, program or student at the College. Not every initiative or project necessitates a press release or media coverage. To determine if a public relations component would benefit your project, contact the director of Communications at .
The College's Media Relations Policy
Other than letters to the editor or op-ed pieces, the College's policy regarding media contact prohibits anyone except the president or his designee, the chair of the board of trustees or the public relations officer to speak on behalf of the institution. The policy helps to ensure that the institutional position is accurately communicated and strengthens the College's credibility. Staff who are contacted by media representatives directly are required to refer them immediately to the director of Communications at .
Sometimes as a result of current events or as a follow-up to specific press outreach, staff may be called upon to respond to media inquiries. As indicated earlier, the director of Communications is responsible for arranging and coordinating all contact with media representatives. Staff are available to provide media training, preparation and other information for anyone who has agreed to make him or herself available to the media. 
Publicity — We Need Your Input and Ideas
Community College of Philadelphia's centralized public relations function, it is required that the production and oversight of all publicity materials is the responsibility of Communications. While the public relations staff assumes primary responsibility for developing tools and materials conveying the College's stories and for communicating them to media representatives, we need publicity materials and ideas from all of you. Please call the director of Communications at with ideas and suggestions.
Special Events and Facilities Usage
Special Events and Community Relations plans all official College events, handles most non-instructional facility usage requests and aids outside organizations in planning events at the College.
Contact Erica Harrison at eharrison@ccp.edu or ext. 8941 about a College special event.
There are a variety of spaces and options for facilities usage. Please call ext. 8941 for more information.