Below is a list of resources that students and alumni can use to plan their careers and navigate seeking and landing a job or internship. To access these tools, log in to MyCCP, click on the 'Student' tab at the top of the page, click 'Career Connections,' and then click on one of the tools below.
Handshake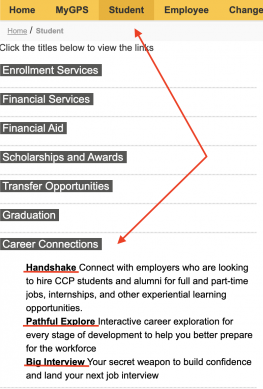 Finding Employment Opportunities through Handshake
Optimize your job search with Handshake, which puts you in touch with employers looking to hire CCP students and alumni for full-time and part-time positions, internships, and other experiential learning opportunities. 
Log in to MyCCP, and click on Career Connections under the Student tab to:
Create a profile with your employment history in order to search and apply to jobs
Upload your résumé for employers to view
Search for and save job postings and applications
Download the app for added convenience
Handshake Features and Navigation

Jobs
Narrow your search by choosing one of the bubbles next to the search bar. Note that "On-campus" jobs are only for students with a Work-study award. You can narrow your search even further by clicking on "all filters" and choosing from the options in the pop-up window. You can also search by location or job title.
Career Center
Avoid using a generic template for your résumé. The Career Center (far right menu item) has custom templates listed under "resources" that will help your credentials stand out and look professional.
You can also make an appointment with the Career Center using this page under "Appointments."
Events
Use this feature to find out when and where we are hosting workshops, career fairs and Hot Job Alert events.  
My Profile
Edit your primary education section with your major(s), GPA and expected graduation date. Use the "Upload Résumé" tool to auto-fill your profile from your résumé. Add copies of your résumé/cover letter/transcript to the "Documents" section (located in the dropdown menu in the right circle). The more information you add here, the more personalized the job opportunities will be.
Take the career assessment survey and choose the career that matches your interests. Watch engaging, real-life job videos featuring real people facing the rewards and challenges of their work to find out if a career is the right fit for you. Stay on track with features that let you plan your career from educational requirements, certifications and beyond.
Your secret weapon to master any job interview! View interactive mock interviews and read through example answers for more than 100+ industries. No time to prepare? No problem! With Big Interview, you can practice and record your mock interview on your cell phone and tablet and send it to a Career Connections team member for feedback before the big day arrives.
Big Interview Tools: Interview guides, video practice, and tips