Fall 2023 Events Calendar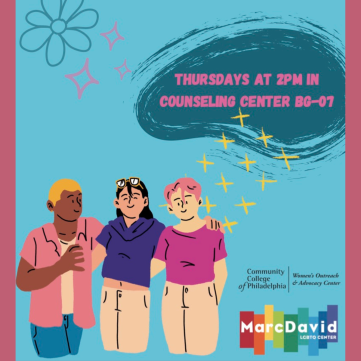 Trans and Gender Nonconforming Student Support Group
Thursdays at 2 p.m.
Join us every Thursday in the Counseling Center, Bonnell Building, Room BG-07, for our transgender and gender-nonconforming student support group. Your attendance is encouraged if you're interested in giving and receiving support, learning how to advocate for yourself, and even commiserating with others who understand. Topics will vary based on group input. The series runs through Dec. 7, 2023.
Queer Student Union (QSU) Weekly Meetings
Mondays | 4:30 to 5:30 p.m. | Winnet Student Life Building, Room S2-08
QSU is the hub of student-led queer life here at CCP. Weekly meetings foster community, security, and positivity for queer students on campus. Activities will vary weekly.
Celebrate LGBTQ+ History Month
LGBTQ History Archive Exhibit
Library and Learning Commons Exhibit Hall
To celebrate LGBTQ+ History Month, the LLC has curated an exhibit titled "Queer Philadelphia: 1945 – Present." The exhibit will draw from the College's archive, the personal collections of various faculty and staff, and selected items from collections beyond the College. Where possible, the exhibit's focus will be the queer student presence and experience on campus.
Latine and Queer Panel
October 4 | 11:30 a.m. | Winnet Student Life Building, Room S2-03
Learn more about the intersections of Latine and Queer identities from our LGBTQ+ Latine and Afro-Latine panelists. This is being hosted in collaboration with the curators of the Latine Heritage Month events.
LGBTQ History Archive Exhibit Opening Reception
October 4 | 1 p.m. | Library and Learning Commons Exhibit Hall
Join us for the opening reception of this exhibit for light refreshments.
"Cured" Film Screening
October 11 | 5 p.m. | Winnet Student Life Building, Room S2-03
"Cured" takes viewers inside the campaign that led to a pivotal, yet largely unknown moment in the struggle for LGBT equality: the American Psychiatric Association's 1973 decision to remove homosexuality from its list of mental illnesses. Combining eyewitness testimony with newly unearthed archival footage, the film reveals how a small group of impassioned activists achieved this unexpected victory.
National Coming Out Day—Queer Student Union (QSU) Tabling
October 11 | 12 to 3 p.m. | The Pavilion
National Coming Out Day is an annual event for LGBTQ+ individuals to celebrate and express themselves being out and proud of who they are. Collect pins and flags and learn about different sexual orientations, gender identities and the importance of coming out for the LGBTQ+ community!
6th Annual Coming Out Night Drag Show
October 12 | 6 p.m. | Bonnell Building, Black Box Theater
In honor of National Coming Out Day, join us for a drag show hosted by the Incredible Mister Right. Come as you are or dress to impress to win prizes in the Walk the Runway contest. This is a FREE, all ages, family-friendly event! CCP students, alumni, faculty and staff are encouraged to bring friends and family.
Free shuttle from the Northeast Regional Center (NERC) to Main Campus: Check-in is at 5:15 p.m. and the bus leaves at 5:30 p.m. The bus will leave Main Campus to return to NERC at 8:30 p.m. This is a round-trip reservation, all students who take the bus to the dag show must return to NERC on the bus. Reserve your seat on the shuttle bus!

International Pronouns Day
October 18 | 2:30 to 5 p.m. | The Pavilion
Get free pronoun pins and learn more about our new pronoun marketing campaign featuring Roary!
Chosen Family: LGBTQ+ Student Experience Transfer Fair
October 24 | 11 a.m. to 2 p.m. | Winnet Student Life Building Coffeehouse, Room S1-22
Transferring is easier with Chosen Family! Come meet some of the offices and clubs that support LGBTQ+ students on campus at some of the colleges and universities in the region who have transfer agreements with CCP.
The Glass Closet: Navigating Identity and Sobriety in Queer Nightlife
October 27 | 1 to 2:30 p.m. | Winnet Student Life Building, Room S2-03
Drugs and Alcohol play a big role in the LGBTQ+ community because so many of our LGBTQ+ centered spaces exist in the world of nightlife. Join us to explore how you can build community and navigate the queer social scene when you are newly sober. This event is co-hosted by the Office of Collegiate Recovery.
Spooky Soiree Open Mic Night
October 30 | 3 to 4 p.m. | Bonnell Building, Black Box Theater, Room BG-21
Come join the Queer Student Union for a Halloween-themed open mic night! Bring your spookiest poems, songs and performances, and dress to meet the ghouls of CCP! We'll hear a short story reading by CCP faculty and author, Kathleen Murphey. Complete this form to sign up.
Visit the Pride Portal to add these events to your calendar.
More Fall 2023 Events
LGBTQ+ Job Search and Interview Preparedness Workshop
Tuesday, November 14 | 2:30 to 3 p.m. | Library and Learning Commons, Room L1-17
Should I ask potential employers if their workplace is LGBTQ-friendly? Should I disclose my identity to potential employers? Should I put my pronouns on my résumé? If you've ever asked yourself these questions, then this workshop is for you! Come learn how to professionally navigate your job search as an LGBTQ+ person, and optimize your cover letter and résumé to increase your number of offered interviews.
World Aids Day
Friday, December 1 | 1 to 3 p.m. | Winnet Student Life Building Lobby
Don't miss your chance to get accurate information about HIV and AIDS from GALAEI, a local organization that provides services, support and advocacy for all QTBIPOC communities. Stamp your event passport at all the tables to get fun giveaways! Organizations will share resources and information about STI testing and safety, as well as breakthroughs in HIV treatment and prevention.
Initiatives
Legal Name Change Clinic

The CCP Out List

All Gender Restrooms

Transgender Support Group