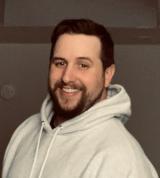 Once a Temple Owl, Colin O'Leary attended Temple University and received his Bachelor of Arts degree in Political Science. With plans to go to law school, he worked at a law firm for a little over one year but soon realized that's not how he envisioned spending the rest of his life. So, he followed his heart and enrolled in Community College of Philadelphia's Culinary Arts degree program in the fall of 2019 and became a CCP Lion. 
"My parents own a bar and restaurant, so I've been around food most of my life," Colin said. "Cooking is something I'm used to and it's the one thing I love to do, so I just went for it."  
Already familiar with the industry, Colin had a goal when he enrolled at the College — but it was more than a degree that he was after. His primary interest was in gaining knowledge of food, its many origins and about the art of cooking itself. He also knew attending the College would be the most cost-effective way to obtain his degree while receiving the same quality education as any other institution. His goal was to advance his budding career. 
Colin spent one and a half semesters learning his craft with American Culinary Federation (ACF) Culinary Arts faculty chefs alongside his peers before quality time in the kitchen turned into quantified time in front of a computer at home. The COVID-19 pandemic transitioned his in-person, hands-on classes to remote learning. Colin says it was all so "bizarre."
"I wasn't surprised [when the College shut down]. I think it was necessary. But the transition was weird to then be working online," he said. "We were learning from a book and Zoom. We learned a lot, but we weren't cooking and that's what you actually need." 
The Culinary Arts program is a proactive experience that requires students to work together in close proximity — the exact opposite of what health guidelines suggested at the time. When Colin's class learned they'd be going back into the kitchen in the spring of 2021, they knew it would be different. But Colin remained excited to return.
"I loved it! We were the only ones there," Colin said, as he discussed what it was like to be on campus this past spring. "We all wore masks, filled out the health screening form every day and tried as best as possible to keep a six foot distance from one another. Wearing masks while cooking was an additional task but it didn't affect how or what I learned." 
The program, which provides students experience through in-house catering servicing, adapted to its new format and lack of catering opportunities. Throughout the course of the program, students learn the basics of the kitchen, proper use of utensils and tools, and even baking. As they progress, students practice preparing and cooking for College events. In past years, the students would cater and serve for events like staff luncheons, but since this year's in-person events were suspended, the instructors and students had to improvise. 
"This year, we cooked for the few employees that were in the building," Colin said. "We practiced plating and served lunch when we could. I was given the opportunity and Chef Andy and Chef Bill were really nice and helpful; I learned a lot from the both of them."
Colin is a May 2021 graduate with plans to go into the workforce after receiving his degree. He has been helping out at his family's establishment for the past four months and will be working and learning from new experiences in a position he has secured after commencement.