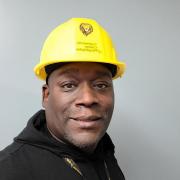 On May 4, John Wiggins will celebrate his one-year work anniversary at the College. When he joined the College as director of Construction last spring, Wiggins oversaw all new construction projects and renovations that took place at the main campus and any of the three regional locations.
Less than a year later, he was promoted to associate vice president of Facilities and Construction. In this new role, he has some of the same responsibilities with a few added tasks: overseeing housekeeping and environmental services, building maintenance and plant operations. However, his most pressing responsibility to date is to assist with the safe reopening of the College.
"For more than a year, the Facilities Management staff has been diligently working to keep students, faculty and staff who are on campus safe," said Wiggins. "Public Safety has been consistently performing temperature checks on anyone who enters our buildings. The COVID-19 Safety Team and the ITS Department have implemented a COVID-19 prescreening form that can be completed online ahead of time to avoid overcrowding and long wait times. There have been no confirmed cases coming from on campus, and we are working to keep it that way."
As the College finalizes its plans for a phased reopening this fall, Wiggins says that there has been a great emphasis on adopting the best cleaning practices and ensuring that the College's ventilation systems are not only operative, but also fully sufficient. 
For the past few months, Facilities Management staff have been utilizing victory sprayers — better known as electrostatic sprayers. According to the U.S. Environmental Protection Agency, electrostatic sprayers satisfy the need to disinfect large indoor spaces.
Unlike conventional spraying methods, they apply a positive charge to liquid disinfectants as they make their way through the nozzle. The positively charged disinfectant is attracted to negatively charged surfaces, which allows for an efficient and even coating of surfaces. This is especially useful on hard-to-reach surfaces. 
"When it comes to cleaning, our main focus is on high-touch areas such as door handles and elevator buttons," said Wiggin. "These surfaces will be cleaned four to five times a day, especially when more classes are in session. Our team has done a great job of staying updated on the ever-changing public health guidelines and we will continue to make sure that everyone is properly informed on best practices as it relates to cleaning and sanitizing campus spaces."
The College will continue to make significant improvements to its ventilation systems. The Centers for Disease Control and Prevention suggest that proper ventilation upgrades can increase the delivery of clean air, reduce the spread of disease and lower the risk of exposure. 
With guidance from Pennoni, an Engineering News-Record top 500 consulting engineering firm, the College is in the process of assessing its facilities to help ensure alignment with City of Philadelphia, Commonwealth of Pennsylvania and CDC guidelines. 
"While the College was using Minimum Efficiency Reporting Values (MERV) 11 filters, we made the decision to upgrade to MERV 14 to provide an additional layer of security to the College community," said Wiggins. "Our newest ventilation filters are the highest-grade filters suited for our system and have up to a 95 percent efficiency rate when it comes to capturing particles such as mold spores, dusting aids and cement dust." 
Wiggins says that the Collegeis investing in ultraviolet (UV) lights that work to capture and destroy any remaining particles that may have bypassed the MERV filters.  
"The UV lights add an extra layer of protection and ensure that only clean air is passed back through the system," said Wiggins. "Students and staff can also expect to return to campus with hand-free restrooms and touchless water bottle filling stations. All of these upgrades, in conjunction with social distancing, wearing face masks and regularly washing your hands, make the College as safe as possible for all of us."
Wiggins says the College will also have an abundance of face masks and hand sanitizer available to those on campus in need.
"I'd like to thank the Facilities Management team for their ongoing efforts to make the College returnable," said Wiggins. "It truly is a team effort and I believe that we are prepared to welcome people back to campus this fall."