As announced last week, the College has decided to continue in an online environment for the spring 2021 semester, with a few exceptions for courses that can only be offered in person. The safety and security of the College community is our first priority, and all of us need to be a part of the solution when it comes to stopping the spread of COVID-19. 
Through these difficult times, we are striving to offer you all the support and resources you need to achieve success. I commend all of you for continuing to make the necessary adjustments for virtual learning. 
Students, we remain committed to helping you move forward with your education, and we can assist you with the same supports that you would receive if you were on campus. We have been learning right along with you on how to offer you the best experience possible in our new normal. The College will help you accomplish your goals online so you don't interrupt your educational journey. By working together, I know we can assist in meeting your goals. 
—Dr. Generals
Wear a Mask, Save Lives
We all have the power to contain the spread of COVID-19 and save lives. Let's maintain our focus on keeping each other healthy and safe. Masks will protect others, and wearing one is required in Pennsylvania. Learn more about mask guidelines and see more updates for Pennsylvania.
A Message for Students About Online Learning
You can succeed in an online environment—don't put your education and your future on hold. Listen to a message of encouragement from Jeffrey Markovitz, Ph.D., associate professor of English. Watch what other faculty members want to say to you regarding online learning.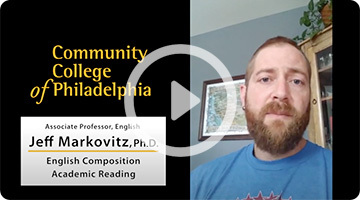 Here's How We Can Help
Our Virtual Support Services put you in touch with Advising, Counseling, Financial Aid, Admissions and many other offices around the College, and we offer instruction on navigating Canvas and Zoom.
Need technology assistance? You can now reserve time on a computer in our Computer Lab on Main Campus. Computers can be reserved for one 90-minute session each day and you must reserve your computer at least one day in advance. Computers are available Monday through Friday from 9 a.m. to 5 p.m. Learn how to reserve a computer and get started. We can also help you receive free or reduced internet, and address other barriers to your education. Contact us today with any concerns or questions.
Bookstore Update
The Main Campus bookstore will temporarily reopen from Sept. 28 to Oct. 9, adhering to strict social distancing guidelines, to support 10-week classes. The hours of operation will be 9 a.m. to 5 p.m., Monday through Friday. 
The preferred method of obtaining books and materials is ordering through the Bookstore website, www.ccpbookstore.com, and having items shipped to your home. Please note that the Bookstore is not responsible for lost or stolen packages. If necessary, you can have your order shipped to the Bookstore for pickup between Sept. 28 and Oct. 9. If you choose this method, you will receive a confirmation email. You must have the last four digits of your web order number and a photo ID. You will not receive a refund for any orders that are not picked up by Oct. 9.
Keeping You Up To Date
Please check myccp.online/coronavirus for any updates regarding the pandemic. I appreciate your patience and tenacity as we forge ahead, and please stay well.
Donald Guy Generals, Ed.D.
President